Overview
The Database for Annotation, Visualization and Integrated Discovery (DAVID ) v6.8 comprises a full Knowledgebase update to the sixth version of our original web-accessible programs. DAVID now provides a comprehensive set of functional annotation tools for investigators to understand biological meaning behind large list of genes. For any given gene list, DAVID tools are able to:



Identify enriched biological themes, particularly GO terms


Discover enriched functional-related gene groups


Cluster redundant annotation terms


Visualize genes on BioCarta & KEGG pathway maps


Display related many-genes-to-many-terms on 2-D view.


Search for other functionally related genes not in the list


List interacting proteins


Explore gene names in batch


Link gene-disease associations


Highlight protein functional domains and motifs


Redirect to related literatures


Convert gene identifiers from one type to another.


And more

DAVID Statistics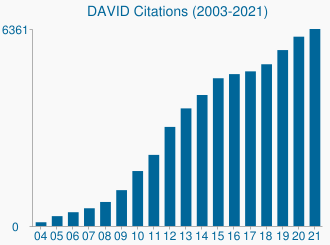 > 57K Citations (Updated 2/2/2022)
Average Daily Usage: ~2,700 gene lists/sublists from ~900 unique researchers.
Average Annual Usage: ~1,000,000 gene lists/sublists from >100 countries